Summer feels glorious or oppressive, autumn stimulating or ominous, winter frightening or intimate. But everybody loves the coming of spring. The advent of warm weather cracks open the protective shield forced upon us by winter's cold.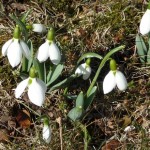 As winter make us shut down, spring opens us up. Those first warm days are thrilling. We are relieved and uplifted by the return of birds and flowers. The human emotional system, whose job it is to keep us balanced and prepared for the future, recognizes our affinity for the safe, comfortable warm weather now arriving.
It is so much easier to relax and be the person you want to be when the weather cooperates.