Watching other primates feels a lot like watching human babies. They're different, of course, but they feel so close. In watching them, I couldn't help but wonder what they were thinking.
Monkeys, baboons, gorillas and other primates stir human empathy like no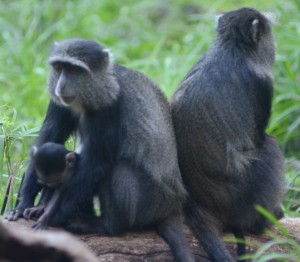 other animals. The way they look, move and interact speaks to our common heritage. We saw a couple of kinds of monkeys and many baboons recently on a trip to Tanzania, and we could hardly take our eyes off them.
Our response to being in the presence of these primates provides further evidence that the core of the human emotional system is a feeling of Oneness or connection. The feeling isn't exactly affection, but a sense of kinship. They are like us; we feel it. Watching them somehow, on some level, helps us understand ourselves better.
We did not physically interact with these animals but others have. Check out this human interaction with gorillas. Imagine how touched you'd be to transcend the species barrier even for a moment.watch?v=1eXS0o6r-Wk
The reason you should get to know your emotional system better is that it gives you more flexibility in how you feel and more choice. Understanding the system teaches you how to escape uncomfortable stuck feelings. Everyone has ups and downs. Getting to know the system allows you to have a more enjoyable life.